Business of our company rests on three pillars

jakość, środowisko i bezpieczeństwo.
The Multisectoral Enterprise 'KORD' Co., Ltd. launched its business in
1996.
To firma działająca na rynku od dwóch dekad. Podstawową działalnością naszego zakładu są remonty urządzeń z branży energetycznej, regeneracja ich części oraz serwisowanie.
Wszystkie prace prowadzone zarówno w warsztacie jak i na obiektach Klienta wykonywane są z wysoką starannością oraz dokładnością i co bardzo ważne w tej branży - terminowością.
Scope of overhauls and maintenance jobs
centrifugal, piston, screw and rotary compressors
industrial turbine units
fans for main ventilation systems of underground mines
boiler fans
exhaust fans for flue gas evacuation
blowing fans for blast furnaces
high-speed cylindrical transmission gearboxes of high and medium power
high-speed planetary gearboxes
diagnostics of dynamic condition for rotating machinery
maszyny wyciągowe (układy sterowania i układy hamulcowe)
Why whe are the best choice?
We offer competitive prices and capability to start the subcontracted jobs promptly after having the contract signed. We also offer 24/7 repair and maintenance services for machinery and equipment with diagnostics of their technical condition.
Our services are always provided at the superior quality level, always on time and according to the schedule.
trained and skilled personnel
Certificates
System Zarządzania zapewnia właściwą administracje oraz realizację procesów mających bezpośredni wpływ na jakość pracy, która przekłada się na jakość produktów i usług. Sprawne działanie systemu gwarantuje, że wszystkie kroki monitorowane są pod względem skuteczności i efektywności. Naszym celem jest ciągłe doskonalenie oraz przystosowywanie się do zmiennych warunków rynkowych i technologicznych oraz wymagań Klienta. Wysoka jakość produktów i usług wspierana jest ciągłą troską o środowisko oraz o bezpieczeństwo pracowników. Podstawę naszego działania stanowią trzy filary: jakość, środowisko i bezpieczeństwo. Ufamy tylko kompleksowym rozwiązaniom.
Certificate: "Dynamic Company", 2012
Certificate: "Gaseles of Business", 2013
Certificate: "Solidet", 2013
Certificate of Business Fidelity, 2009
Certificate of Business Fidelity, 2010
Certificate of Conformity
Number: KOMAG/04/ST/13 Product name: Fans primary ventilation systems of underground mines Type: WPK-2,5/K and WPK-2,6/K with rotors of I, II and III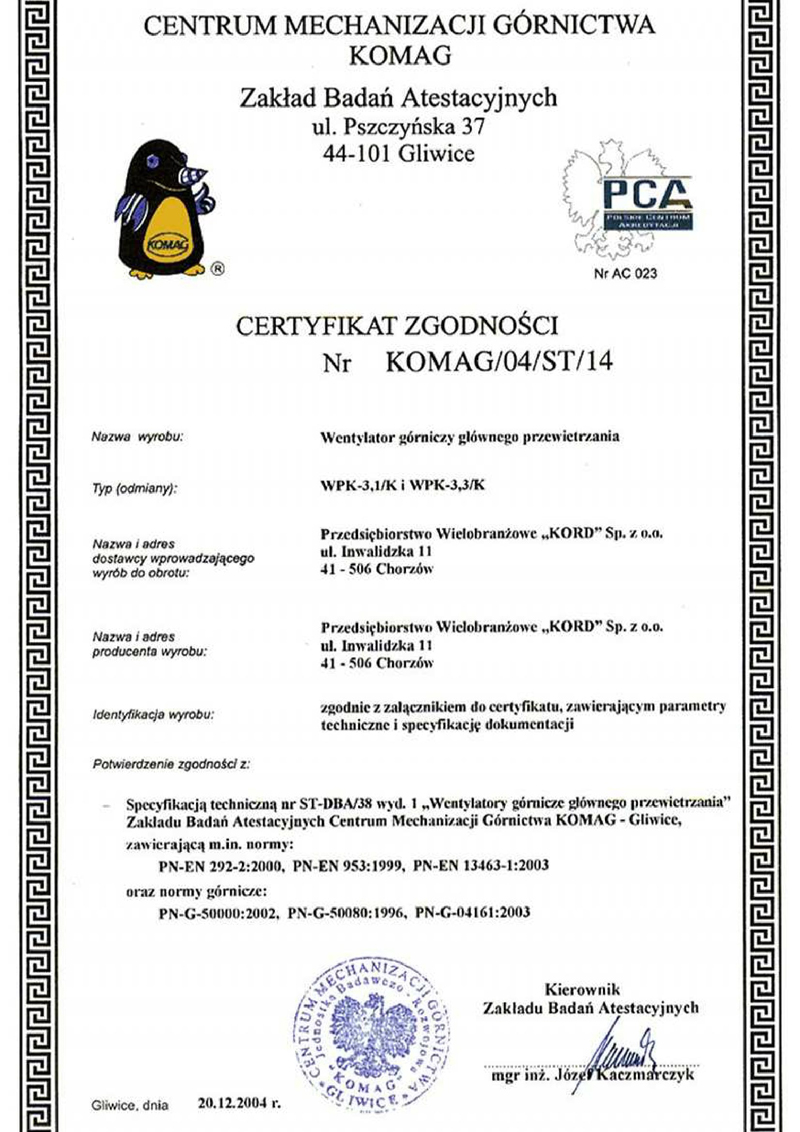 Certificate of Conformity
Number: KOMAG/04/ST/14 Product name: Fans primary ventilation systems of underground mines Type: WPK-3,1/K and WPK-3,3/K
Certificate of Conformity
Number: KOMAG/04/ST/16 Product name: Fans primary ventilation systems of underground mines Type: WPK-3,9/K
Certificate of Conformity
Number: KOMAG/04/ST/17 Product name: Fans primary ventilation systems of underground mines Type: WPK-5,0/K and WPK-5,3/K
Certificate of Conformity
Number: KOMAG/05/ODPOW/23 Product name: Fans primary ventilation systems of underground mines Type: WPR-180/1,8/K
Certificate of Conformity
Number: KOMAG/05/ODPOW/24 Product name: Fans primary ventilation systems of underground mines Type: WPR-200/1,8/K
Certificate of Conformity
Number: KOMAG/05/ODPOW/25 Product name: Fans primary ventilation systems of underground mines Type: WPR-220/1,8/K
Certificate of Conformity
Number: KOMAG/04/ODPOW/36 Product name: Fans primary ventilation systems of underground mines Type: WPK-2,6/K with rotors of I, II and III
Certificate of Conformity
Number: KOMAG/04/ODPOW/37 Product name: Fans primary ventilation systems of underground mines Type: WPK-3,1K/ and WPK-3,3/K
Certificate of Conformity
Number: KOMAG/04/ODPOW/38 Product name: Fans primary ventilation systems of underground mines Type: WPK-2,5/K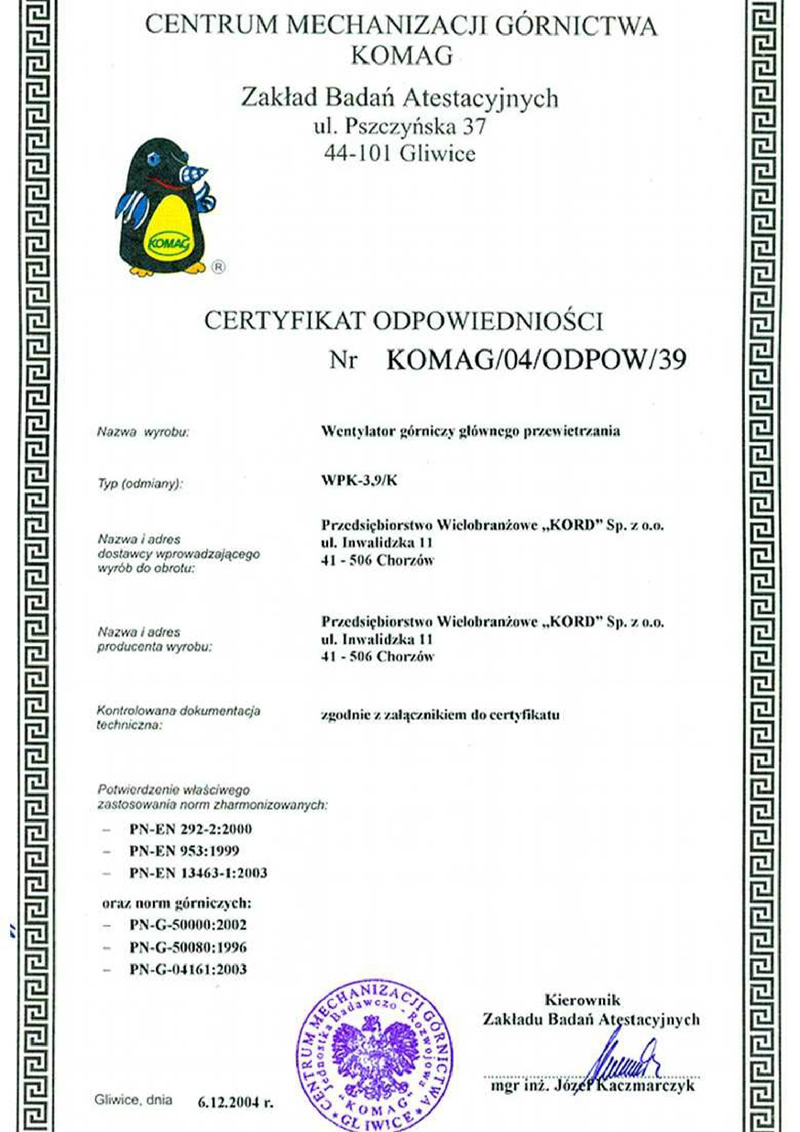 Certificate of Conformity
Number: KOMAG/04/ODPOW/39 Product name: Fans primary ventilation systems of underground mines Type: WPK-3,9K/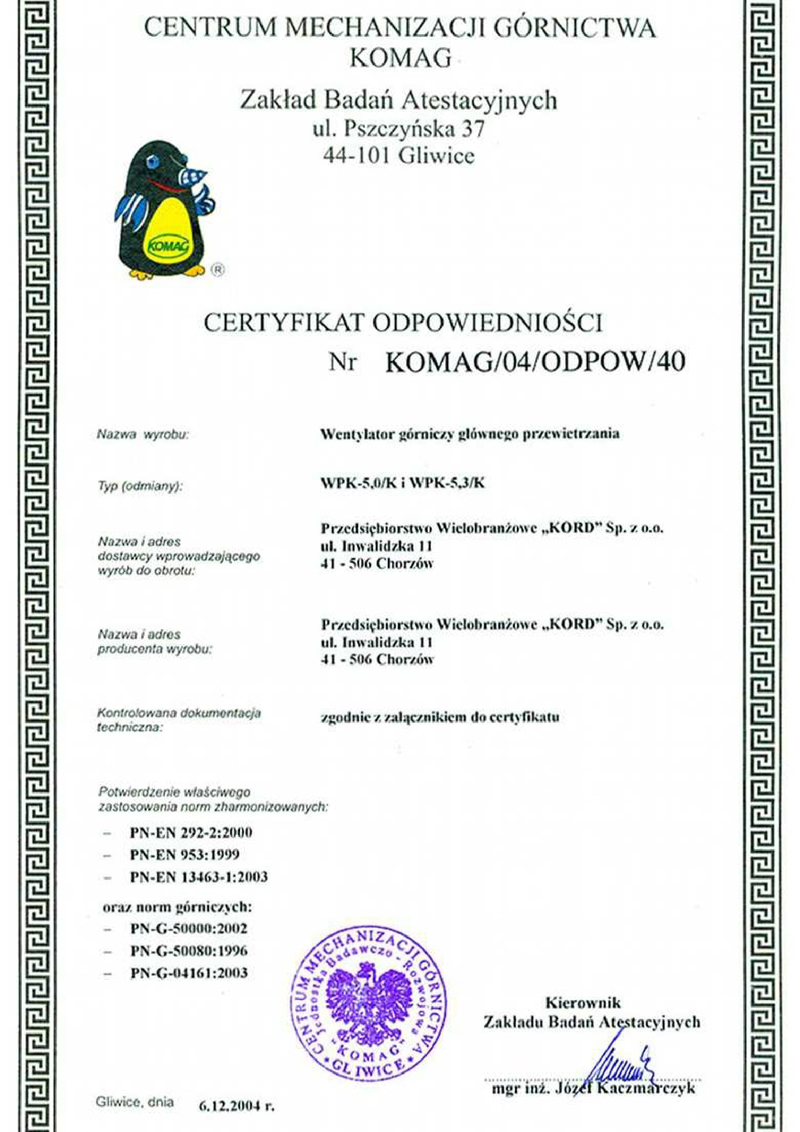 Certificate of Conformity
Number: KOMAG/04/ODPOW/40 Product name: Fans primary ventilation systems of underground mines Type: WPK-5,0K/ and WPK-5,3/K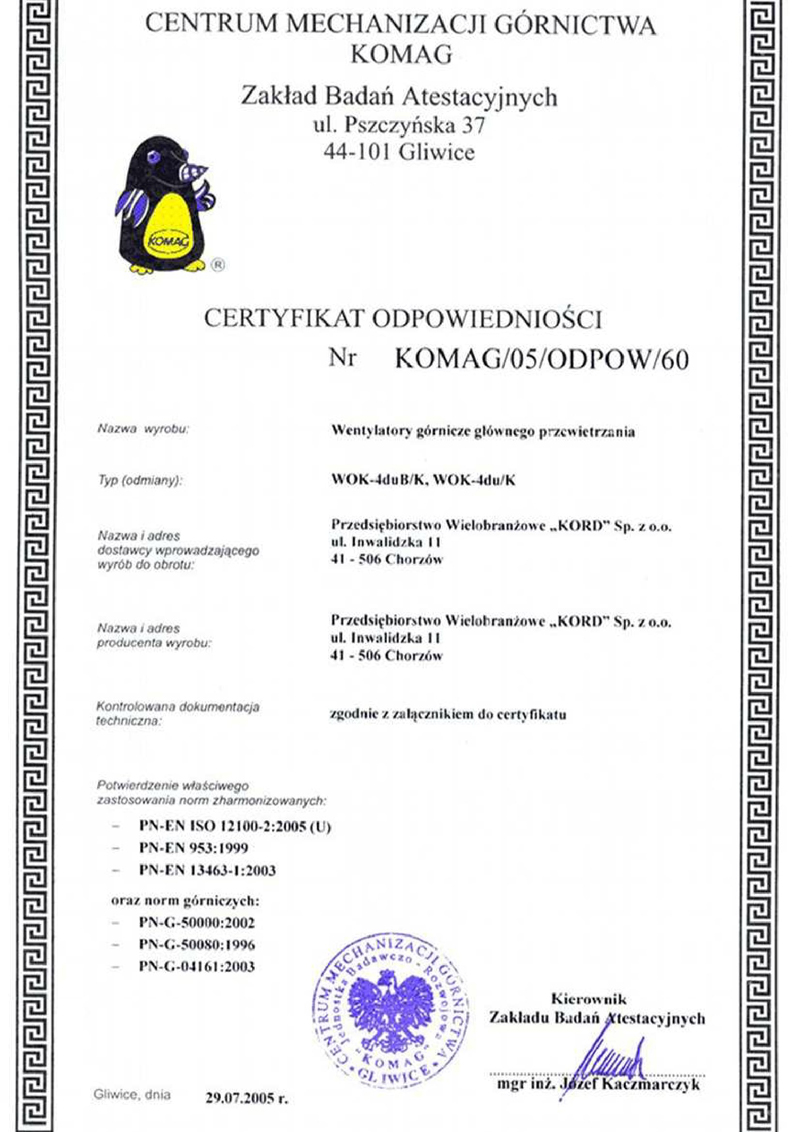 Certificate of Conformity
Number: KOMAG/05/ODPOW/60 Product name: Fans primary ventilation systems of underground mines Type: WOK-4duB/K and WOK-4du/K
Certificate of Conformity
Number: KOMAG/05/ODPOW/61 Product name: Fans primary ventilation systems of underground mines Type: WOK-3,2K/